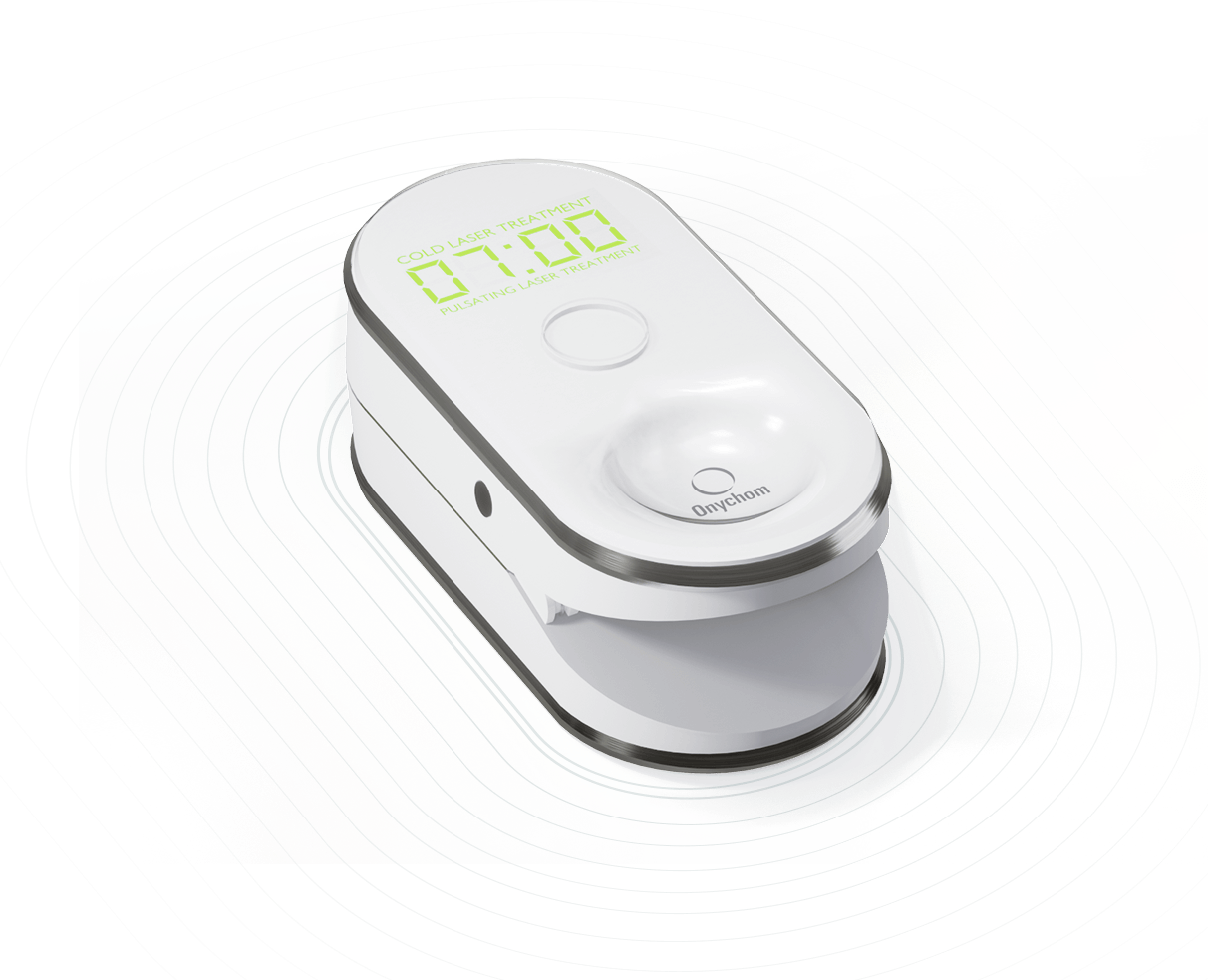 Two treatment modes.
More laser beams on
two different wavelengths.
Double antibacterial lights
for extra disinfection.
Premium design with digital display.
Destined to destroy fungus.
1. Clip it on your toe or finger
2. Turn on the device
3. Choose your treatment mode:
cold laser treatment or pulse treatment
4. Leave it on for 7 minutes
+1. Keep your day going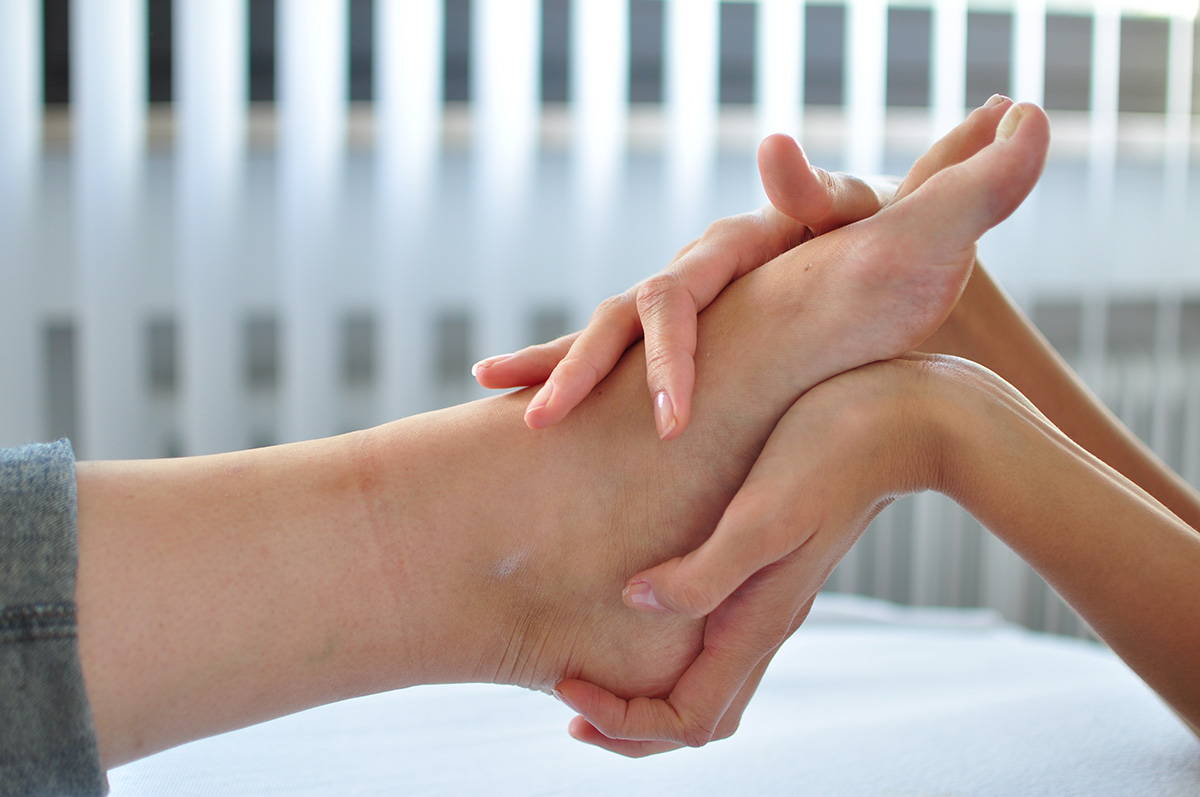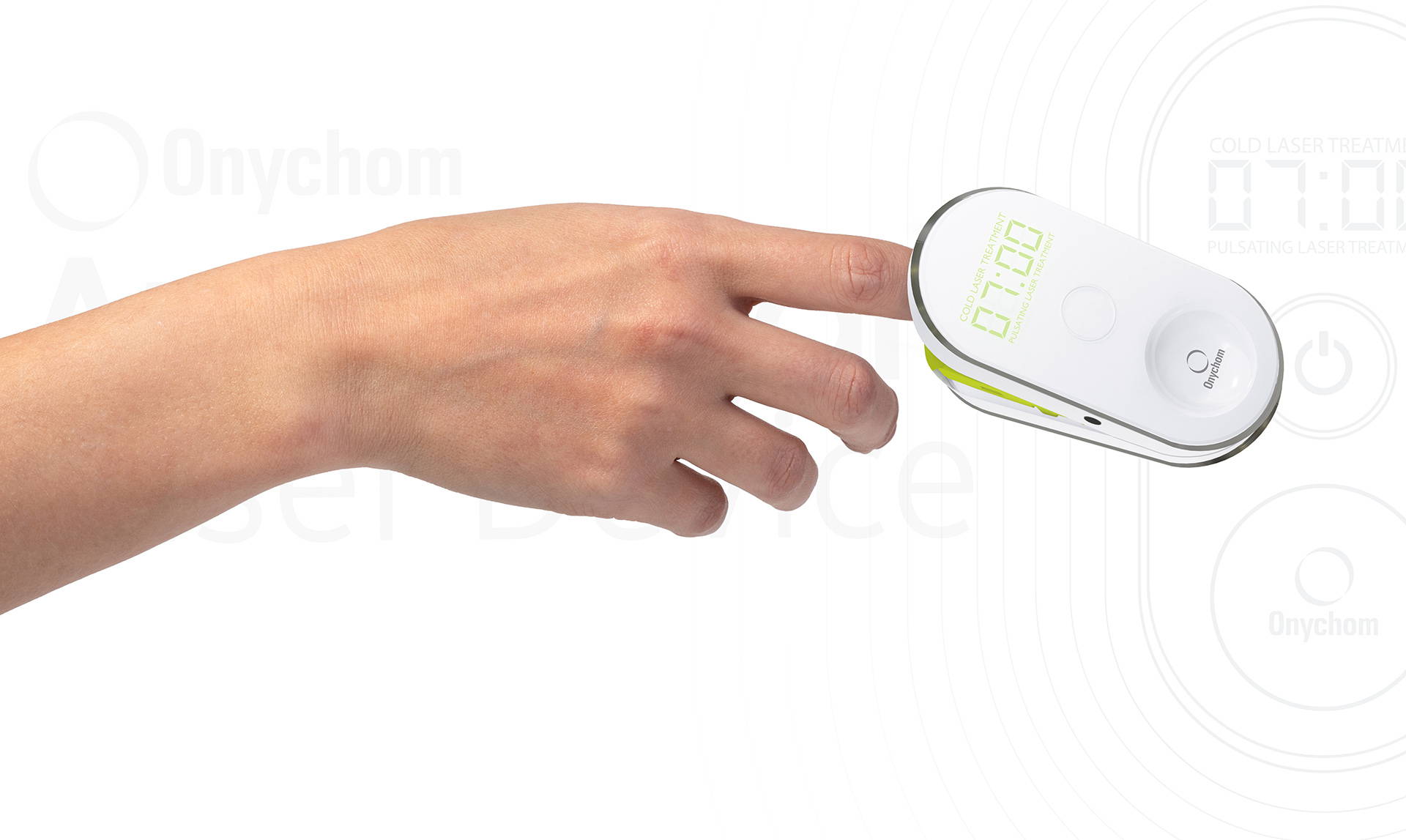 Because it attacks the organisms under your nails without damaging any skin or tissue -

making this treatment much safer than other therapies that may cause irritation on top of the infection

. With both pulsating soft lasers as well as

antibacterial blue lightdelivered continuously you can get rid not only of nail fungus

, but also its spreaders.
Give yourself the most advanced
at-home laser treatment for nail fungus:
- suits all finger types

- short treatment time
- minimal discomfort
- continuous improvement
- no risk, no pain
- no side-effects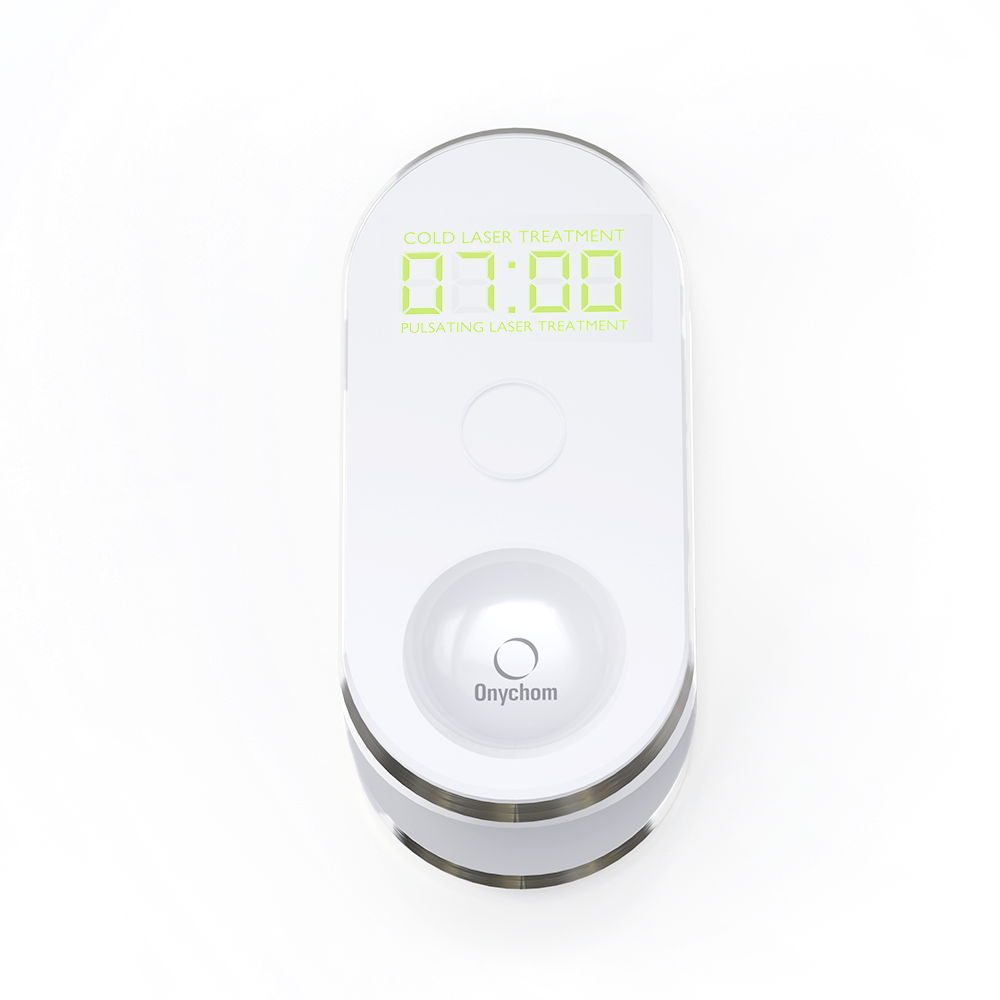 Topical antifungals (like ciclopirox) are used for managing minor infections of the nail plate. While topical antifungals have the advantage of causing fewer and less serious side effects, treatment periods are long, and efficacy is limited due to poor nail plate penetration. Clinical trials have shown newer topical agents like efinaconazole 10% and tavaborole 5% to be significantly superior to placebo. However, further comparative trials are required to determine their relative clinical efficacy and provide more effective recommendations for patients.
Oral treatments (like terbinafine, itraconazole and fluconazole) are required for most cases of onychomycosis because of their greater ability to penetrate the nail bed and nail plate. Common side effects of these medications include headaches, gastrointestinal symptoms, nausea and rash.
By combining two technologies, the precisely directed soft laser and blue light therapy eliminate the fungus without any undesirable effect. It doesn't harm the surrounding nail tissue, totally painless, and takes only 7 minutes per nail.
Onychom provides a painless and effective solution for nail fungus without any side effects and harmful chemicals.
Onychom provides a painless and effective solution for nail fungus without any side effects and harmful chemicals.
The best value at a low cost
Despite laser therapy is proven to be the most effective treatment for nail fungus, the National HealthCare doesn't cover it, therefore, it can cost a fortune for anyone. Onychom is a one-time investment for an infinite time of usage, with a 180-day money back guarantee.
Remedy at anytime, anywhere
Onychom does not baffle your daily routine - just clip it on your toe or finger, leave it on until the 7-minute timer ends, use whenever and wherever you want it!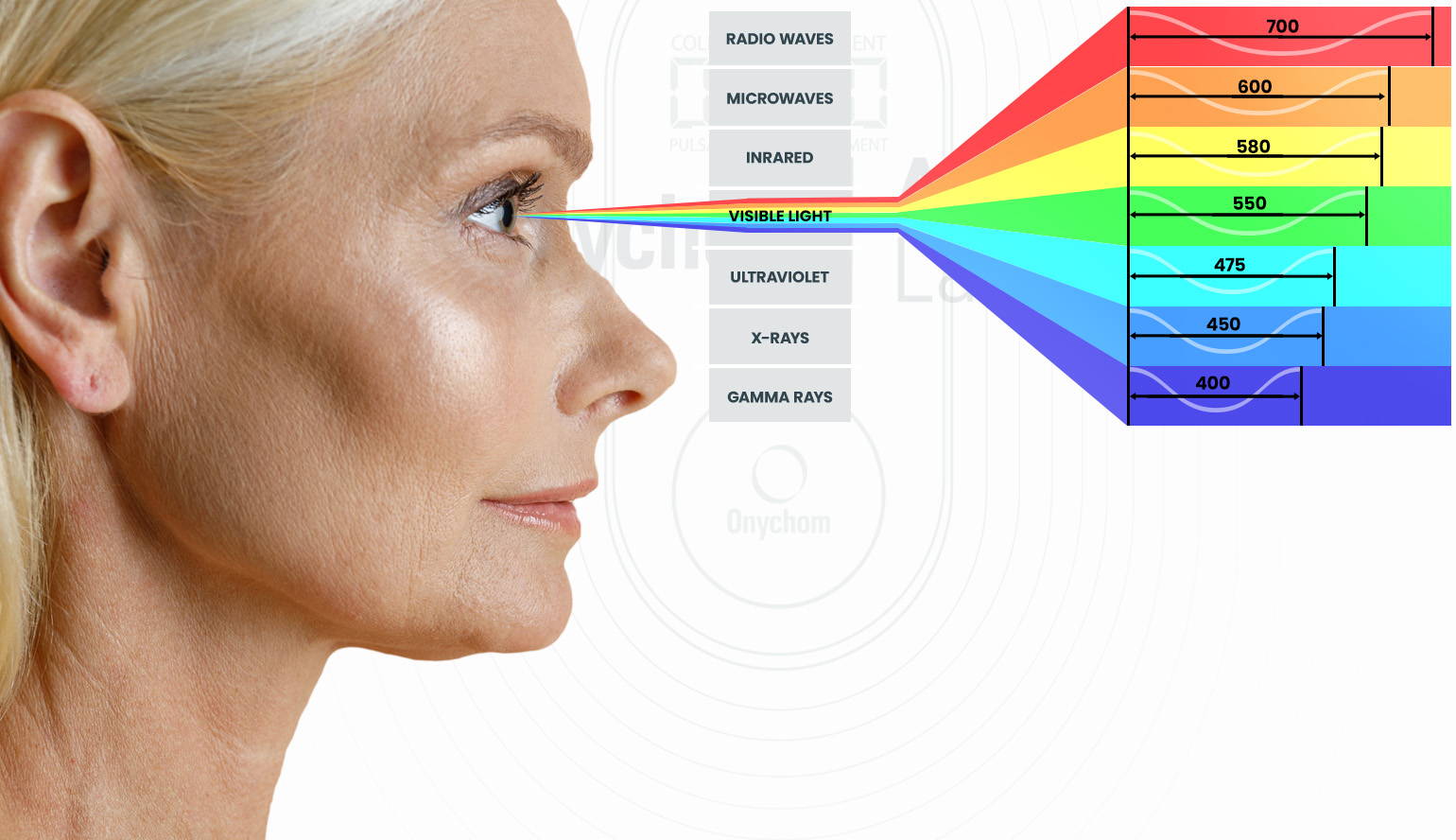 Your feedback is important!
We've received much feedback that our users can see nothing but the antimicrobial light at cold treatment mode and no red laser beam. Typically, the human eye can detect wavelengths from 380 to 700 nanometers, and the infrared laser beam featured in cold laser treatment is 905 nm (using an IR illuminator would make it visible). That's why we only see blue light when our nails are treated at cold laser treatment mode.

To help our users see what they are doing more clearly, we decided to add an extra laser beam at one of the last visible wavelengths: 650 nm.